The Old Gate Inn, Bradgate Lane, Bradgate.
Earliest date 1833, Closed March 1921.
The Inn was rebuilt in 1906 for Samuel Kent (architect, Joseph Platts)
The unusual thing about this pub is that it appears to be the only one in Rotherham run by consecutive members of one family.
---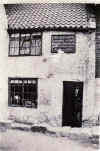 Photos donated by one of the Kent family.
The name above the door of Louisa Kent dates this photo between 1876-1908.

Samuel Kent ran a dairy at Bradgate, here we see his son Edwin at the pony's head.
Can you identify the two young lads.
---